Graduation
Guide to Graduation
The 2021 Spring Commencement Ceremony will be held at Veterans Memorial Stadium on Friday, May 21th, 2021, beginning at 11:00am. A rain date of Saturday, May 22nd has also been reserved at the Stadium.
On Commencement Day, Friday, May 21, 2021. Graduates should meet at the Barry Welch Soccer field next to Veterans Memorial Stadium at 10:00am.
Download the parking map here.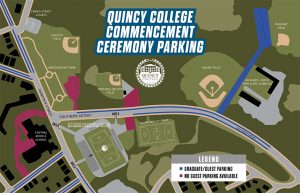 There will not be a secure area to leave personal belongings during the ceremony, so please plan accordingly.
Click here to open Google Map directions to the venue.
Honor cords will be distributed on the day of commencement to students exemplifying outstanding academic achievement. Students will be notified upon check in.
Commencement Guests
See Guest information. Students must register guests in advance.
Guests will be admitted beginning at 10:00am through their assigned gates and must present a confirmation letter from Heritage Sports for entry. Heritage Sports will send graduates the link to register their guests for Commencement on April 21st.
College ushers will direct your guests to the appropriate seating for the ceremony. Please Note: No noise makers or balloons are allowed.
When exiting the venue, students and guests will be dismissed by section. Guests should exit the gate that they were assigned to enter.
Regalia is required for Commencement and will be available on both Quincy and Plymouth Campuses.
Quincy Campus
Barnes and Noble bookstore, 3rd floor of Presidents Place
Pick up hours between April 20th and May 20th*
Monday – Friday
10:00am – 2:00pm
*Evening pick up on Thursday, May 13th until 7:00pm.
*Saturday pick up on May 15th from 10:00am – 2:00pm.
Call the bookstore at 617-328-1602.
Plymouth Campus
Front Desk Reception Area
Pick up hours between May 3rd and May 14th*
Monday – Friday
10:00am – 2:00pm
*Evening pick up on Wednesday, May 12th until 7:00pm
Please Note: Students must pick up their own regalia and must present a photo ID at time of pick-up.
Commencement Guests
Commencement is limited to the graduate and two (2) guests only. Graduates must register your guests in advance and only those who have pre-registered may attend.
Graduates will receive an email from Heritage Sports Ventures that will have instructions on how to register guests. Heritage Sports will send graduates the link to register their guests for Commencement on April 21st. Once registered, you and your guests will receive an email with your guests seating assignments.
For questions regarding seating, contact: Griffin Kirkwood at griffin@heritagesportsventures.com.
Each pair of guests will be seated six feet apart.
Commencement Security and Safety Measures
Everyone attending Commencement must observe the following guidelines:
Graduates, faculty, and staff must arrive to the venue in their robes.
Attendees are not to leave any personal items unattended at the venue. Please be sure to keep personal items in your possession at all times;
All attendees will be required to go through a security check upon entering the venue and they and their belongings may be subject to search.
If you observe any activity that appears to you to be suspicious, please report it immediately to one of the Police officers present.
Social Distancing
Please maintain six feet distance between other guests.
Please enter through your assigned gate.
Each guest must present proper identification and confirmation email at entrance.
Each pair of guests and each graduate will be seated six feet apart.
Face Coverings
All attendees must wear face coverings before, during and after ceremony. The only exception is when a person is unable to wear a face covering or mask because of a medical or other disabling condition.
Any person(s) who refuses to wear a face covering or mask without a valid justification may be denied entry.
Ceremony: Pre, During and Post
No communal gathering/reception either before or after graduation.
No food or drink is allowed.
No hugging or hand shaking should occur.
Graduates, please convey this information to your guests.
Your cooperation with these measures, which are designed with everyone's safety in mind, is greatly appreciated. Thank you.
GradImages will be at the Quincy College Commencement. They will be photographing every student as they receive their diploma and also against a Quincy College backdrop. A passport-sized photo proof will be sent to you following commencement along with the opportunity to select from a variety of photo packages, with no obligation to purchase.
Celebrate on Social
Join the conversation using #QCgrad2021  and #HatsOffQC on your favorite social networks including Facebook, Instagram and Twitter.

Downloadable Graphics for Social Media
You did it! Don't be shy – this is your day to shine. Download these graphics and share this moment with friends and family by using the #QCgrad2021 hashtag.
Instagram Stories
Stay Connected
Learn more about being the Quincy College Alumni Association>>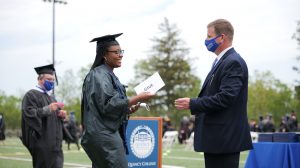 You might also be interested in...