Graduation
Guide to Graduation
2022 Commencement
Quincy College's Spring 2022 Commencement will be held on Friday, May 20th, 2022 at Veteran's Memorial Stadium, 850 Hanock Street, Quincy, MA. A rain date of Saturday, May 21st, 2022 has also been reserved at the Stadium.
All graduate applicants should be aware that to participate in the Commencement Ceremony you must have met all of the requirements:
Completed all academic degree requirements
Achieved a cumulative GPA of 2.0 or higher
Paid the Commencement fee
Settled all balances with the Business Office/Library*
Completed the exit interview if you received a Federal Direct Stafford Loan
Commencement Details:
Date: Friday, May 20, 2022
Rain Date: Saturday, May 21, 2022
Location: Veterans Memorial Stadium, 850 Hancock St, Quincy, MA 02170
Schedule of Events:
9:30 am – 10:30 am Student Registration
10:30 am – Registration Closed
11:00 am – Commencement Ceremony Begins
1:00 pm – Commencement Ceremony Concludes
Registration: Please report to the Barry Welch Soccer field located next to Veterans Memorial Stadium. All Graduates must be registered by 10:30 am.
Guests:
All Guests must enter through Gate C
Guests can arrive beginning at 10:00 am.
There is no limit to the number of guests a graduate can have at the commencement ceremony.
There will be no tickets distributed and seating is first-come, first-served.
Notes:
There will not be a secure area to leave personal belongings during the ceremony. Please plan accordingly.
Please come dressed and ready to walk in your cap and gown. There will not be an area in which to change or get ready.
Registration and the ceremony will be held on athletic fields. Please plan your footwear accordingly.
The Commencement ceremony will be live-streamed from the site below and on Quincy Access TV (QATV), Channel 8. Click HERE to watch Live.
Congratulations and look forward to seeing you on Friday, May 20, 2022.
For event information please contact registrar@quincycollege.edu 
Download the parking map here.
Click here to open Google Map directions to the venue.
Honor cords will be distributed on the day of commencement to students exemplifying outstanding academic achievement. Students will be notified upon check-in.
Regalia is required for Commencement and will be available on both Quincy and Plymouth Campuses.
Quincy Campus
Barnes and Noble bookstore, Lower Level Basement of Presidents Place, 617-405-5952       
Pick-up Dates: April 19th through May 19th, Monday – Friday, 9:00 AM – 1:00 PM
* Evening pick up on Thursday, May 12th until 7:00 PM
* Saturday pick up on May 14th from 10:00 AM – 2:00 PM
Plymouth Campus
Front Desk Reception Area, 508-747-0400
Pick-up Dates: April 25th through May 13th, Monday – Friday, 10:00 AM – 2:00 PM
* Evening pick up on Tuesday, May 3rd and Thursday, May 5th, 10:00 AM – 6:30 PM
Online Ordering
quincycollege.shopoakhalli.com
Orders must be placed by Saturday, April 23rd. Shipping fees will apply.
Please Note: Students must pick up their own regalia and must present a photo ID at time of pick-up.
Commencement Guests
Guests will be admitted beginning at 10:00 AM. At this time, there is no limit to the number of guests a graduate can have at the commencement ceremony. There will be no tickets distributed and seating is first come first serve. Please Note: No noisemakers or balloons are allowed. 
In order to make Commencement 2022 an enjoyable event for all who attend, accessibility accommodations are available upon request. Please use this form to make your request.
Commencement Security and Safety Measures
Everyone attending Commencement must observe the following guidelines:
Graduates, faculty, and staff must arrive to the venue in their robes.
Attendees are not to leave any personal items unattended at the venue. Please be sure to keep personal items in your possession at all times;
All attendees will be required to go through a security check upon entering the venue and they and their belongings may be subject to search.
If you observe any activity that appears to you to be suspicious, please report it immediately to one of the Police officers present.
Graduates, please convey this information to your guests.
Your cooperation with these measures, which are designed with everyone's safety in mind, is greatly appreciated. Thank you.
Veterans Memorial Stadium
850 Hancock Street. Quincy, MA 02170
GradImages will be at the Quincy College Commencement. They will be photographing every student as they receive their diploma and also against a Quincy College backdrop. A passport-sized photo proof will be sent to you following commencement along with the opportunity to select from a variety of photo packages, with no obligation to purchase.
Make Sure To Tag Us in all of your Graduation Posts! #QC2022 #QCCommencement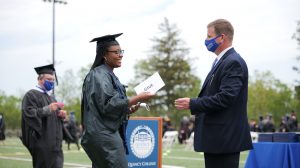 Quincy College 2021 Commencement
Congratulations Class of 2021 Graduates! Click here for video.
Check out our Facebook page to view photos of Commencement 2021.
Download the 2021 Commencement Program
Go to QATV Channel 8 to view Quincy College Commencement 2021!
Quincy College Commencement 2021 in the News
Commencement 2021 in Patriot Ledger
Commencement 2021 Channel 5 WCVB
You might also be interested in...